Ubi'story: the history of Ubi the Clown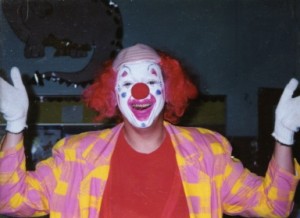 What began as a Halloween costume in 1991 has become a local entertainment phenomenon. The name Ubi is short for "Ubiquitous," which is the quality of seeming to be everywhere at once. The person behind Ubi the Clown is me, John Hogan, a student of the Dramatic Arts for more than 50 years.
I began acting in elementary school and studied drama in high school and college. My studies included theatre history from ancient times to the present and theatrical make-up, from simple ingenue to latex prostheses. Having a propensity for comedy, a love of make-up and dressing up for Halloween, the clown costume evolved into a working, paying hobby. Ubi the Clown performs for birthday parties, weddings, corporate picnics, street fairs, and celebrations of all kinds.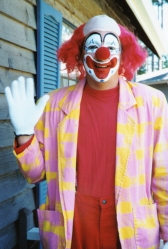 My formal education in the Clowning Arts includes attending seminars and lectures by former Ringling Bros. Circus clowns and professional clown entertainers. I have met and learned from Tricia "Priscilla Mooseburger" Manuel, former Ringling Bros. Clown and owner/founder of Mooseburger Camp, a very prominent clown camp/college, Bruce "Charlie" Johnson, a clown of international renown and clown historian, Angel "Willie" Ocasio, master clown and founder of ComediFest NW, among others.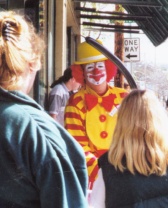 I have considerable experience in many facets of clowning, in character development, make-up, comedic movement, stage presence, parade, party and walk-around clowning. I am an accomplished balloon twister, a hack juggler, a fair magician and a genuinely hilarious clown.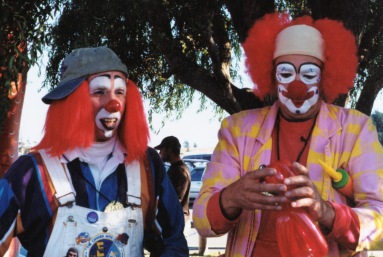 Since 1991, Ubi has been involved in countless performances, shows, events, celebrations and festivals, performing clown magic, comedic juggling, and balloon twisting; delighting ladies, gentlemen, boys, girls, and children of all ages. Some of the various events over the years have included:
Oak Harbor, WA, Holland Happening Parade and Arts Festivals
Oak Harbor, WA, Old Fashioned Fourth of July Parade and Festivals
Anacortes, WA, Arts and Crafts Fairs
Coupeville, WA, Arts and Crafts Festivals
Coupeville Elementary School Fall Fun Festivals
Clown-a-rama Show, Hillcrest Elementary School
NAS Whidbey Island Base Chapel Annual Picnic (6 years in a row!)
Del-Jen/CDC Annual Picnic (7 years in a row!)
NAS Whidbey squadron fly-ins and summer picnics
Providence St. Peter's Hospital, Olympia, WA
Langley, WA, Choochokam Festival of Arts and Music
Bremerton, WA, Armed Forces Day Parade
Tampere, Finland, Night of Happenings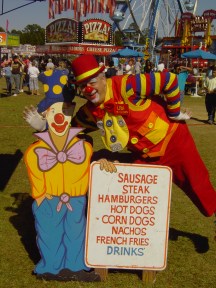 Pizza Inn, Ash Street, Goldsboro, NC
Torero's Mexican Restaurant, Goldsboro, NC
Ryan's Family Restaurant, Goldsboro, NC
Seven Springs Summer Celebration, Seven Springs, NC
Curtis Media Group BRAC Party, Goldsboro, NC
Pittsboro Street Fair, Pittsboro, NC (2005-2014)
First Sunday, Pittsboro, NC
Clydefest, Pittsboro, NC
Siler City Alive, Siler City, NC
Goldsboro High School's Class of '76 30th Reunion, Goldsboro, NC
2nd Annual Branch-Outlaw Family Reunion, Pink Hill, NC
Applebee's Restaurant, Raleigh, NC
"Sunday in the Garden" Arts festival hosted by the Arts Council of Wayne County (2007-2011)
Art in the Park, hosted by the Arts Council of Wayne County and the Wayne County Parks and Recreation Department (Hurricane Irene created damage in the Garden so the event moved to Herman Park)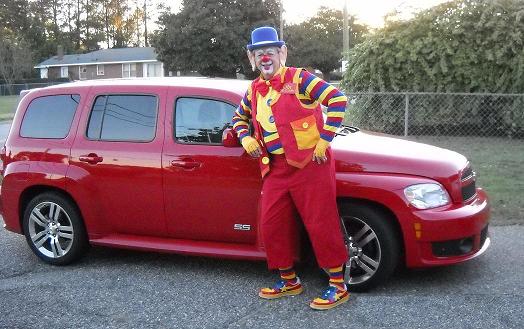 Wayne Regional Agricultural Fair (2007-2009)
Carlabration, sponsored by NPR station WUNC at the American Tobacco Historic District
Goldsboro Jaycees' 4th of July Parade & Street Fair (2007, 2008)
Croaker Festival, Oriental, NC (2007-2015)
Jordan Lake Music Festival, Chatham County, NC
Goldston Old Fashion Day, Goldston, NC (2006-ongoing)
Cherry Hospital Family Day, Goldsboro, NC (2007, 2008)
Maker Faire NC 2011
Riverfest, Bridgeton NC
Pirate Invasion, Beaufort NC (2012, 2013…)
Bryce Martin Foundation "Kids Helping Kids Festival", Raleigh, NC
And very, very many birthday parties, both in private residences and at public venues.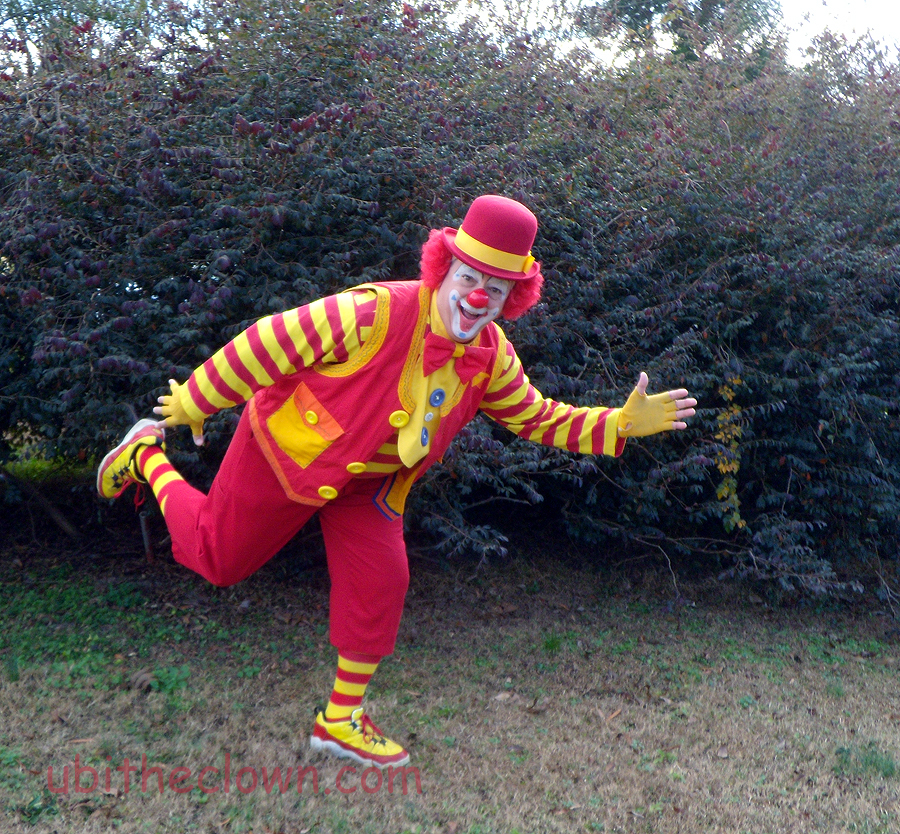 Ubi also has volunteered his talents for the benefit of many worthy causes including:
Foster Families of Skagit and San Juan Counties Annual Picnic
SeaFair Special People Holiday Cruise on Lake Washington, with Caring Clowns International, Seattle, WA
Children's Ward; Tampere University Hospital, Tampere, Finland
Teddy Bear Tea, Soroptomists of Oak Harbor Christmas Party
Oak Harbor National Night Out
American Cancer Society Relay for Life Walk-a-thon
D.A.R.E. Drug awareness program Rodeo and Donkey Basketball Games
Empty Stocking Fund, Goldsboro, NC
Sprott Christian Youth Center, Moncure, NC
Breasticle Festival, UNC-CH 2011-and beyond