Tricks and delights not often done, and not often done well! Thrills, Chills, Spills, and Shenanigans Galore!
Magic that thrills the young and the young at heart, nothing spectacular, no disappearing buildings, just good clean fun, somewhat amazing, and nearly always leaving you wanting more.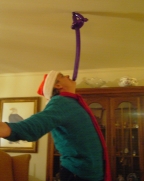 In this picture, I am fearlessly balancing a sword on my chin, where one slip makes the difference between a sword twister, and a sword swallower! (which is a very good place to make a point: babies and young children must never be allowed to put balloons IN their mouths, which I stress at every twisting event with both children AND their parents).
Of course, the careful observer will notice I have a little help from the ceiling.
But Ubi can do real magic!