John the Balloon Man & Ubi the Clown do Balloon Twisting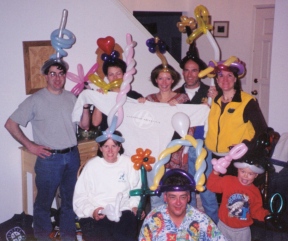 As everyone should know: "Every party is better with festive multi-colored balloon hats." The origins of balloon twisting are lost to the mists of time. Probably, the day after balloons were invented, someone twisted a pink balloon into a poodle.  Balloon artists haven't stopped. Both Ubi the Clown and John the Balloon man are accomplished balloon twisters, able to create dogs and other animals, toys, hats, and many more imaginative pieces of ephemeral entertainment from a scrap of latex and a puff of air.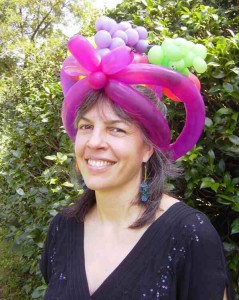 The Carmen Miranda shown above is a particularly detailed creation, made from a basic frame, decorated with grapes, bananas, apples, pears, and other fruits. John made it for his partner Karen the Hoop Dance Lady to wear to a special 70th birthday party held in Pittsboro, NC.
Balloon Animals at Public Events
Both John and Ubi the Clown have entertained children and their parents with balloon animals, hats, swords and magic helmet ensembles, and other examples of balloon art at many public events in North Carolina, especially in the east-central region from Goldsboro to Raleigh, Pittsboro, Goldston, and Siler City. Children have been entertained at First Sundays in Pittsboro, at several Clydefests in Bynum, at the Pittsboro Street Fair, and at many other festivals and fairs in eastern NC.
Hire John to Twist Balloons for Your Party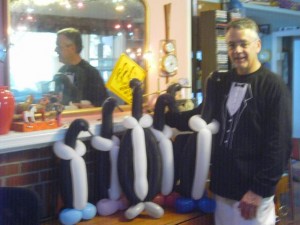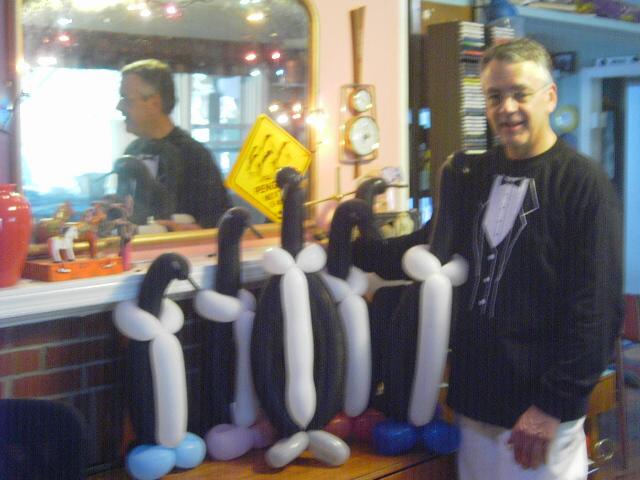 Several years ago, a grocery chain hired me to twist balloons for the grand opening of a new store. My son Sean and I worked most of the night and created 50 life-size lobster balloons for the seafood department. More recently, I produced penguin balloons for the 5th annual Penguin Party, a garden party celebrating things black and white. I can do birthday balloons for private parties, making sure the birthday child receives the most specialest balloon creation of them all!
We've heard more than one parent say, "I can't believe they're all waiting in line!" once Ubi sets up in his twisting chair and asks the first child about his or her favorite color. The balloon bag is stocked with most colors, and those in turn in both shades–Duke pink, & Carolina pink; Duke green, & Carolina green. Usually, the children figure it out faster than their parents. (There's only one red…)
Twisting Balloons at the BRAC Celebration for Seymour Johnson AFB in Goldsboro, NC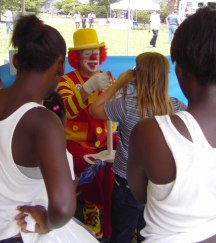 The Curtis Media Group hired Ubi to entertain at the party they threw to celebrate Seymour Johnson AFB NOT being targeted by the 2005 BRAC (base realignment and closing) Committee.
Depending on the party, either John the Balloon Man or Ubi the Clown can twist balloons.